Source: January 1995 Volume 33 Number 1, Pages 17–26
Country Houses of the Main Line 1870 - 1930
Before I begin my talk on the Main Line, I want to take a moment to invite all of you to visit Wyck, the wonderful 18th century house and garden in Germantown that I direct. Wyck, a National Historic Landmark, was home to nine generations of the Wistar and Haines family, from 1690 to 1973, and over 10,000 objects which are original to the house are still housed there.
Visitors to the Main Line are consistently impressed with its beauty, the winding roads passing through manicured suburban lawns. The sense of his- tory and timelessness is pervasive in Welsh village names like Bryn Mawr, Bala Cynwyd or Berwyn. Rambling 18th century fieldstone houses overlook English style gardens. An occasional Gothic manor or French chateau intrudes into the colonial landscape, but the image of centuries of quiet and simple taste persists.
The success of this illusion is complete, yet in reality this country suburb is the result of planning by several influential gentlemen and a railroad. It is rooted not in the 18th century but in the late 19th and early 20th century. That "18th century fieldstone house" was probably built in 1915 or 1925, years after the castles and chateaux.
The Main Line is the result of planning in the boom period following the Main Line of the Pennsylvania Railroad which ran to Pittsburgh and beyond, serving as a primary pathway for freight.
The architecture, the landscape, and the affectations of British country life identified with the Main Line are an idealization made possible by the large fortunes of the post Civil War years, founded in industries and capital investments.
After the Civil War the PRR began to plan the development of the farm country around villages like Humphreysville, Athensville, and Libertyville. It was envisioned that railroad service would stimulate the building of country homes and suburban commuter towns. Large parcels of land owned by descendants of Welsh Tract settlers, Quaker families such as the Ellises, Humphreys, Rowlands, Roberts and Lloyds, and smaller farms could be subdivided and developed. More residents meant more rail passengers.
But how was the railroad going to attract people to the Main Line? In 1869 it purchased 62 acres from farmers in Humphreysville and made plans to develop the area, now more enticingly named Bryn Mawr. The success of a number of summer boarding houses, like the Wildgoss and the White Hall Hotel, suggested that the primary attraction would be the country air, the relaxing atmosphere, and the many sporting pastimes offered. A new station was opened in Bryn Mawr, and in 1871 a four-story, mansard-roofed hotel designed by the Wilson Brothers welcomed its first guests.
Promotional literature for the Bryn Mawr Hotel read: "Occupying a delightful position in the midst of a fertile and well watered country is a superb hotel. From a scattered hamlet the place is growing into the proportions of an elegant town." Suites and single rooms could accommodate 250 guests. Bowling alleys, billiard rooms, and the first elevator on the Main Line were attractions offered to Philadelphia's elite.
The first years of the hotel were not quite the success that was suggested. On its 25-acre grounds two ponds turned into muddy quagmires each spring. The treeless property was not especially inviting. So the ponds were drained, and terrace gardens planted, avenues of trees and bridle paths developed.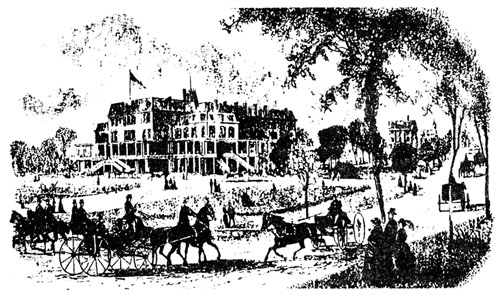 More importantly, Phi ladelphians like Alexander Cassatt, Percival Roberts and Richard Brinton took up summer residence. They hosted parties, balls, and organized sporting events. The city newspapers began to report these social events and they served as a magnet to families who wanted to be part of the social whirl.
When fire raced through the Bryn Mawr Hotel in 1887, fortunately in the off-season in October, it was reduced to rubble. A new and even larger structure, designed in the Queen Anne style by Furness, Evans (and now familiar to you as the Baldwin School) was built in its place.
Other large hotels flourished further west on the Main Line in the 1870s and 1880s. The Bellevue Hotel in Wayne was built by business partners Anthony Drexel and George Childs in 1881; in Devon the Devon Inn was a favorite spot, out in the country away from Philadelphia. A late 19th-century writer noted, "The air of this high region is excellent, the situation attractive, and beauty of scenery, and surroundings of historic interest add to its charms." Sporting highlights included a swimming pool and polo club. It soon too became a center for social life.
In the 1870s and '80s resort life was drawing many more visitors to the Main Line and increasing railroad passenger traffic, but it was not yet stimulating real estate development as hoped. Aware that they must supply the impetus to build a country house and in effect use their business and social prominence as an incentive, many officers of the PRR, Baldwin Locomotive, and Philadelphia's banks began the construction of sizable estates.
In the early 1870s Alexander J. Cassatt, then general manager of the PRR began Cheswold, his Victorian villa on 54 acres in Haverford. Designed by Furness, Evans, it would become a model of a gentleman's estate. As Mrs. Martha Lamb wrote in 1879, "kennels reveal the English tastes of its master for horses, dogs, and country life". The house grew in the next two decades to total 30 rooms, including seven bedrooms and seven baths. Interiors included walnut paneling, stained glass windows, and an extensive art collection. Finding Cheswold too small for his farming and stock breeding interests, Cassatt purchased Chesterbrook Farm, 500 acres in Berwyn, in 1881. Members of Radnor Hunt, then located in Bryn Mawr on Darby-Paoli Road, sometimes followed hounds as far out as Chesterbrook and on more than one occasion at the end of a long day Cassatt arranged for horses to be returned to Bryn Mawr in rail cars. Like many other Philadelphians, his primary residence was on Rittenhouse Square and he summered in Maine.
Along Roberts Road and Bryn Mawr Avenue, Baldwin Locomotive executives constructed their summer cottages. Several who were Vermont natives, erected imposing granite mansions which surveyed the countryside from the crest of the hill. Dr. Edwin Williams obviously liked the design of the first Bryn Mawr Hotel as he hired its architect, the Wilson Brothers, for his Wentworth, set on 90 acres. As many people of the time noted, the three-story stone structure, with its large circular stone tower, appeared from a bird's-eye view as a massive locomotive with the tower as a wheel. This house passed to his daughter, who married William Dreer of the seed company family. Six other houses were eventually built on the estate for other family members.
John Converse, who began his career as Williams' clerk and later became Baldwin Locomotive's president, built Chetwynd in the 1880s on 32 acres along Lancaster Avenue in Rosemont. This house was also designed by Wilson Brothers, as were a number of additions in the 1880s and 1890. It included a music room, an art gallery with skylights, and an "Indian Room". The scale was smaller than the great English Victorian country houses and stately homes, but these men and women were fully aware of the necessary specialized rooms that went into the house of taste and fashion.
If any one estate can be identified as pivotal in stimulating the progress of Bryn Mawr's social and physical growth it is George W. Childs' Wooton on Bryn Mawr Avenue. Born to humble circumstances in Baltimore in 1829, Childs rose to wealth and national prominence as publisher of the Public Ledger. Joining his life-long friend Anthony J. Drexel, he was also responsible for suburban developments like St. Davids and Wayne.
Completed in 1891, Wooton was described as a "first class, well appointed, and above all most comfortable specimen of pure Queen Anne architecture". Commanding a panoramic view of lawns, curving drives, porter's lodge, stable and clock tower, the 196-acre property included a 40-acre Aldernay dairy farm, water pump house, and extensive greenhouses for Mr. Childs' orchid collection. Even the bridges and estate walls and gates were built of brick and stone in a complementary style. The gardens included a rosary, a cutting garden, and the novelty of a "stumpery", a mass of tree stumps picturesquely covered with vines and moss.
In 1894 Childs died without heirs and left Wooton to his namesake, George W. C. Drexel. Drexel converted Wooton to what his niece, Cordelia Drexel Biddle Robertson, termed "an English manor of the relentless school". Al- terations by Peabody and Stearns of Boston nearly doubled the size of the house. Today much of Wooton survives as St. Aloysius Academy.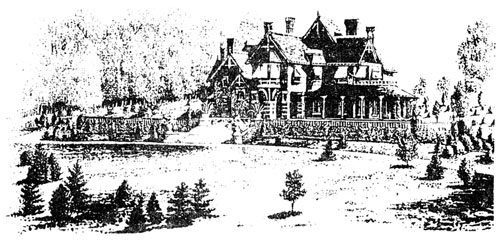 Why was the impact of George Childs and his estate so great? After all, he was certainly not cut from old Philadelphia cloth. But he had become the prototypical Philadelphia Anglophile: his clothes, manners and surroundings reflected his love of Britain. His generous restoration of churches and monuments in that country won praise back home. His magnificent presence and his retinue of influential friends turned Wooton into a national showplace. And never underestimate the power of the press! The sponsorship of the Public Ledger and visits to Wooton by dignataries ranging from U. S. presidents to the Emperor of Brazil must have pleased the railroad developers.
The "Welshification" of the Main Line, as it has been called, accelerated through the 1880s towards the new century. It permeated every aspect of development, from street names to estate names to choice of styles for houses, landscaping and furnishings. Main Line country life was a romanticized image of England and Wales. Patterned more after the country seats of the gentry than the palaces of the blood royal, these Main Line estates presented an impressive facade, but inside they were comfortable, often cluttered, with the conservative look of inherited possessions and occasional rustic touches.
Beyond their immediate surroundings, yearly visits to Britain, attending country house parties, visiting your tailor on Savile Row were all part of many Philadelphians' lives.
A perfect example of the Philadelphia sporting gentleman was Robert Strawbridge. In the late 1890s he purchased 50 acres in Bryn Mawr on Mill Road, and hired Mantle Fielding to design a Tudor house, providing Fielding with photos of houses in England that he especially admired. The house Fielding created had an oak great hall, a drawing room with a carved frieze, a smoking room, numerous bedrooms, and over ten servants' rooms. The service area of the house had a 33' long kitchen, butler's pantry, silver safes, and wine cellar. The grounds were laid out with fountains and fish ponds, a cherry walk, and had picturesque sheep gazing in front of the house, below a ha ha wall. A loyal follower of the Radnor hounds, each year Strawbridge also transported as many as ten horses, hounds, and four or five grooms and trainers to England for the fox hunting season. In 1913 he even became Master of the Cottesmore Hounds in Leicestershire, England.
But there was a vast difference between life in England and life in Philadelphia. In England the aristocracy and gentry had centuries of family association with their land. It was the basis of their fortunes. In contrast, in Philadelphia the city and business were the focus. The country estate was secondary, a delightful pastime but not on the level with a man's city affairs. What the country suggested was a certain freedom, the durability of the agrarian image, particularly that of the hard working colonial farmer. Ironically, these men played down their wealth based in industry and technology by emphasizing old-fashioned rural values and gentlemanly sensibilities. The Philadelphia Press in 1885 reported, in an article entitled "Wealth, Fashion and Architecture in the City's Borders", that these were places "for the enjoyment of the sweetness and light of the God-made country by those who have worn out health and patience in gathering the apples of fortune in the financial and commercial orchard of the manmade town..."
The Main Line now became a fashionable playground for all manner of social games. As Christopher Morley's wonderful fictional character of the 1939 Kitty Foyle reflects, "You wouldn't believe how complicated social life can be till you know about the Philadelphia suburbs. It's a riot." Those of more recent fortunes built sizable estates searching for a path into city society. Those from established families stressed ancestral possessions, and a leisurely way of living to reaffirm their position. Talk of breeding meant far more than one's dairy herd or thoroughbred hunters.
Along the Main Line, a variety of late Victorian styles appeared as new country homes sprang up. Seed broker William Maule's Briar Crest on Spring Mill Road at Old Gulph, built in 1877, typifies more modest structures in the shingle style. Edmund Smith's Stoneleigh on Spring Mill Road, closer to the Villanova station, was designed by the Wilson Brothers around 1890 in the Gothic style; it was expanded by Samuel Bodine in 1901 with new garden houses, greenhouses, and formal gardens.
Master of Fox Hounds at Radnor Hunt, Charles E. Mather built Avonwood Court in Bryn Mawr, on 33 acres located off of the present day Rose Lane, about 1882. It epitomizes the Edwardian style, with gardens designed by Percy Ash around the turn of the century. However, it was not large enough for all Mather's farming interests. Like Alexander Cassatt and John Converse, Mather also had a farm even further out from the city, his Brandywine Farm located at Lenape.
In Villanova, Frederick Phillips began an elaborate scheme to turn his 800 acres into, as a 1903 House and Garden article reported, "a number of country seats to be occupied by people of small means, having similar tastes to his own, and who were desirous of developing their talents amid the graceful surroundings of country life". Chintz curtains, Windsor chairs and "old time" furniture filled the rooms of the old Red Rose Inn. "Phillips' Whim", as it was called at the time, never reached fulfillment. His artistic colony which was even to have shared a kitchen and dining room was just a dream. His premature death brought the project to a halt. For several years three Philadelphia artists -- Jesse Wilcox Smith, Elizabeth Shippen Green, and Violet Oakley -- did have their residence and studio there, but in 1911 a large section was sub-divided and residential streets like Mt. Pleasant Road, Mt. Moro Road, and Valley View became desirable addresses. Baily & Bassett designed comfortable suburban residences on five to ten acres, like Edward Cadwallader's Overview on Valley View Road. Several were built on speculation, an early example of this type of development.
By 1900, the houses on the Main Line were beginning to undergo a metamorphosis of style. From the eclectic Victorian styles they moved to a period of more historically correct adaptations which would dominate house design until the Depression.
The evolution of Charles Wheeler's Pembroke, in Bryn Mawr, located on 100 acres bounded by Fisher's Road, Morris Avenue and New Gulph Road, is a study in changes. Wheeler, of Pascal Iron Works and a founder of the Central National Bank, hired Quaker architect Addison Hutton to design his country house, which was built in 1873. As it first appeared, it was a square Gothic villa with large verandas. Wheeler died in 1883, and in 1890 his widow decided to move to Bryn Mawr year round. Perhaps influenced by houses on the Isle of Wight in England, where Mrs. Wheeler spent her Julys and Augusts, she expanded the house into a vine covered, picturesque old English manor. Around 1903 her son hired Wilson Eyre to redesign the billiard room, this time in the style of a Tyrolean chalet.
Whether French, Tudor, Georgian or Colonial, Philadelphia architects ex- celled in these historicaly accurate designs. Architectural magazines abounded in the first two decades of the 20th century with articles highlighting their successes. They were commissioned to design houses from North Carolina to Maine, but the Main Line and Chestnut Hill became their showcase. The size of the house could often pass 50 rooms. The formality of the interiors, often with carving and rich detailing, had decorators, architects, and their clients vying with each other for stylistic supremacy.
This diversity is shown in a "sample tour" of the area within the heart of the Main Line.
A French chateau was built in Rosemont for Alexander Cassatt's son Robert. Beaupre, as it was named, originally designed by Cope & Richardson, was enlarged in 1908 with a new dining room wing. And on Ithan Road, a short distance away, cotton broker George McFadden Jr. hired Horace Trumbauer Jr., who in 1921 completed a version of a Victorian house into a Loire Valley chateau. Happily, both of these houses still stand.
Elizabethan-Jacobean houses spread along many a hilltop site with dramatic vistas of gardens, farm land, and Philadelphia beyond. Percival Roberts' Penshurst, built in 1902 on a 500-acre site in Penn Valley, is probably best known, partially for its magnificence and partially because its owner tore it down in 1936 in a huff to protest a new incinerator being built within his view.
Baldwin Locomotive president William Austin built two large Elizabethan houses in Rosemont. The first was called Beaumont and was designed by Baily & Truscott in 1902 on County Line Road. By 1912 Austin had begun an even larger house on 66 acres off of Old Gulph Road, on part of the original Harriton farm. Austin's new 30-room house, with its 48' long domed ballroom, was first called Liseter Hall, but by 1920 had been renamed Beaumont. The farm raised sheep, dairy cows, chickens, ducks and pigeons. An extensive vegetable garden was near greenhouses and a glassed-in grapery. A show ring was set up with jumps for the schooling of horses, and there was a small gymnasium for his children.
Francis Potts' Colebrook, by Cope & Stewardson in 1903, looked down from its perch in Bryn Mawr over Morris Avenue across to the Pew's Glenmede on one side and over to the old Harriton house on another.
It is no accident that these houses seem to command a feudal position as they surveyed their domain. Many were self-contained complexes with their own power plants, water systems, and a multitude of assorted outbuildings ranging from stables to private chapels.
The Tudor style, half-timbered houses often nick-named "stockbroker Tudor", appeared in F. King Wainwright's Millbrook. The work of Charles Barton Keen, it was located on 23 acres off of Williamson Road in Bryn Mawr. The hall of Millbrook hinted at baronial splendor. Many of these Tudor-style houses, in fact, had paneling removed from English houses.
Italian Renaissance was favored by leading New York architect Charles Platt. In 1908 he designed Timberline for W. Hinckle Smith, a Philadelphia banker and investor in copper mines and western railroads. Costing $253,000 to construct, it even included the novelty of an indoor swimming pool. Located at Sproul and Clyde roads in Bryn Mawr, it also had Italian- ate terraced gardens by Platt and landscaped grounds by Olmstead Brothers. More than 75 indoor and outdoor servants were employed in its heyday.
A wonderfully exotic Spanish colonial style was employed by architect D. Knickerbocker Boyd for the leather manufacturer Charles Walton's Walmarthon, now Eastern College, in St. Davids,
The Georgian or late English Renaissance style is typified by Androssan in Villanova, a house by Horace Trumbauer built in 1909 for Col. Robert Montgomery. What I find most intriguing about this house is that it is not based on an old 17th century English house but on one built about 1906 called Ardenrun Place, for which Ernest Newtown was the architect. It shows how quickly and directly current English fashion was transported to Philadelphia.
By the first World War it was clear that some major changes were in the wind in the scope and style of Main Line life. The dreaded income tax, the servant problem, and the changing nature of Philadelphia were dictating relatively smaller houses on more manageable parcels of land.
At many dinner parties the topic often turned to what was happening in the city. Eighteenth century town houses like the Powel house were being broken up into tenements, small factories or sweatshops, or simply allowed to fall apart. The exodus to the suburbs for year-round living had begun.
Architects like Wilson Eyre, Duhring, Okie, Zeigler, Horace Wells Sellers, Bissell & Sinkler, and Mellor & Meigs had numerous commissions for houses either in the Pennsylvania farmhouse style or the old English style.
A good example of the latter is Mellor, Meigs & Howe's Glenbrook, built in about 1915 for Caspar Wistar Morris on Rose Lane in Haverford. In Villanova their house built for Heatly Dulles was named Cotswold. Popular features included the massing of the chimneys, the use of forecourts, terraces and garden pools. Hand wrought iron work ornamentation by Samuel Yell in of Philadelphia reflected arts and crafts sensibilities.
These houses were, as Nathaniel Burt wrote, "unostentatious, roomy, traditional, informal, yet luxurious ... essentially romantic". In Ithan, Arthur Meigs designed Locust Hill for his brother John, next to his mother's house, The Peak. In St. Davids a home for Leonard Beale, on Cambria Court, by Mel lor, Meigs & Howe received national attention for what was seen as a most successful English adaptation for a small site.
A renewed interest in American colonial history and pride in one's forbearers, especially in their now much admired Chippendale and Queen Anne furnishings, made the colonial the most popular choice. Housesmlike, the one that Duhring, Okie, Zeigler designed for Senator Philander C. Knox near Valley Forge and that for William Hart in Radnor in 1915 became in- spirations for home building along the Main Line for the next thirty years. Their interiors were ideally suited to antiques. They put forth the image of dignity, domesticity and simplicity while being the perfect setting for country sporting life and entertaining.
There were a few last hurrahs, such as Rodman Griscorn's Cedar Crest of 1929-1931, but the Depression effectively put an end to large scale estate design. You probably know Cedar Crest better as the residence of the late John Dorrance in Gladwyne, on Monk Road. This French Norman house and outbuildings spread over ten acres of the 100-acre farm. A 12-car garage, chauffeur's cottage, greenhouses, main wing, and servant's wing surrounded a court yard, creating a village feeling. Designed by Edward Gilchrist, best known for his work around Chestnut Hill, it reportedly cost $700,000 to complete.
By 1940 the grand scale trappings of Edwardian country life on the Main Line had all but disappeared. Many people had moved further out into Chester County in search of open ground to farm and to hunt.
In what was now a suburban community, firms like Wallace & Warner built, on the sites of the mansions of the 1880s and 1890s, their stone and brick houses, solidifying more of a colonial image of the Main Line.
But the lasting allusions to English life were not to disappear. In some ways the fine line between the style of England and colonial America became blurred into a happy blend of chintzes and Staffordshire pottery, a coating of easy charm, the smell of wet Labradors or the feisty barking of Jack Russell Terriers which is still everywhere we go today.
Although most of the railroad officers would never be aware of it, their design of a residential area abounding in colonial allusions and aspects of English country life was a reality.