Source: July 1998 Volume 36 Number 3, Pages 67–76
Braxton's - A Family Tradition Since 1938
I don't consider myself to be a part of history, and I'm certainly not an historian. I was born in South Philadelphia in 1926. That happened to be the Sesquicentennial year, and from that I was called "Sesqui Bill" by a couple of kids down there. We may not be historic, but we do look forward to two special anniversaries coming up in 1998, 60 years for our place of business in Strafford, and 200 years for our great old stone house on the Pike.
To contradict what I just said about not being a part of history, let me point out some books that catalog the operations of LCS's (Landing Craft, Support) during World War II. I was part of that. There were 130 ships. Nobody really knew about them. Lately, the guys started having reunions and I attended. I don't know how in the world they remembered all this stuff, but they came up with a book - plus they had six tapes on it. I guess in a way I'm not sure where history ends and modern time begins, but the Second War was part of history and I was part of that.
My dad, Edward 0. Braxton, moved us into the old stone house in Strafford, at the southwest corner of Lancaster and Sugartown Roads, in the late 1930s where he started the Braxton Kennels and Dog Shop. Before going into business for himself, he had supervised the Cugley-Mullen Pet Shop on Chestnut Street in Philadelphia for a number of years. Dad bought the old house, and about four acres of ground, in October of 1941 from the Wayne bank which had gotten it during what was likely a depression-era loan work-out. It was a failed Cugley and Mullen store.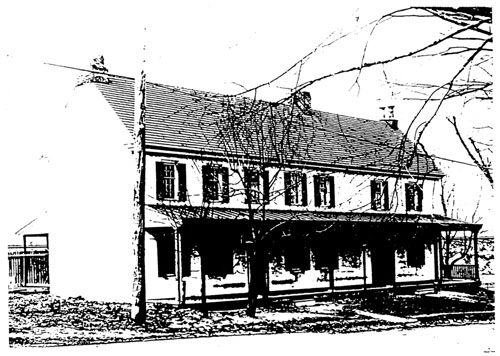 To the south behind the house, the property was bounded by the tracks of the P & W trolley line on its big loop to the Strafford PRR station. To the west, a piece of land had been sold by the bank to Louis Piombino about eighteen months earlier. The Piombino family built a popular restaurant, the Lamp Post, later renamed the Mile Post (the 14th milestone on the Lancaster Turnpike originally stood opposite the Mile Post). To the north, across the street, was the Covered Wagon Inn at the corner of Old Eagle School Road. To the east was Sugartown Road.
At that time, Lancaster Avenue was flanked by a number of old stone houses in the block east of Old Eagle School Road, where a hundred and fifty years earlier the Spread Eagle Inn and its dependencies had stood. Photographs from earlier in this century show them clearly. Unfortu­nately, these old stone houses have been destroyed.
Our house, I think, was built in the 1790s. It doesn't have a corner stone, but scratched in there by a workman is a date 1790. I figure, at least at one point, the house was much bigger than it is now. Last week I started digging around and found a lot of old pictures. One of our house shows a building quite a bit longer than it currently stands, but I don't know the exact date of the photograph.
It was probably Adam Siter who built this house for his wife Sarah. (There is some history on it; apparently back in those days they taxed your house on the panes of glass in the windows -- the 1798 glass tax.) At one time it was about 75 feet long. What is standing today is the west end. The house could have been added to several times. In the part still standing there is a solid wall separating an addition. To the east there was even more building, now gone.
I had a situation in the late 1960s or early '70s where somebody came by, and I kind of got into an agreement whereby the old house would have been torn down. Well, they happened to back out of it, and afterward I made up my mind to never let the house go. So we decided then to make some changes.
We sandblasted the front of our building - it's stone - and you can see a line of different type stone where it ends and then the addition begins. There really isn't any history of the house in either Chester or Delaware County (the county line runs through it) that would confirm the story that Sarah Siter's husband, who was at the Spread Eagle Inn, built the house. [Note 1]
Why he would build it down here for her, I don't know, but it definitely was quite a bit longer at one time. Sugartown Road wasn't where it is now, either. It was up the street to the east, where the old piece of it still intersects with Lancaster Avenue today.
We renovated the building, and added an ell to the back of the west end. The work was done by Steve Bajus (he owns half of Wayne). He didn't treat it as an historic landmark - registering it is quite an act, and I don't know whether we could do that or not. You have to go back and do a lot of things. We did find a letter in the house when we were doing our reno­vating. It's strange, but almost to the date, the letter was a hundred years old when we finished our renovations in 1976. It's dated in February of 1876, written to Miss Seba Bittle by James H. Hyatt of McWilliamstown, Chester County, Pa. Rev. Hyatt was pastor of Great Valley Baptist Church from 1870 to 1873. [Charles Bittle and his family lived in the house from about 1867 to 1903. The 1880 U. S. Census shows an unmarried daughter named Eusebia B., age 30, living with her parents.]
The house is shown on an old A. H. Mueller railroad map of 1912. Our property itself, believe it or not, is just about 50% in each county. The county / township line goes through our property. It's in both Tredyffrin Township and Radnor Township.
Address? I suppose Strafford, I don't know. It's a Wayne post office, but so is Chesterbrook a Wayne post of­fice. Strafford used to have a post office up at the train station. Strafford School? Yes, I went there. It's still there, but it's Woodlynde School now. When I went there in 1938 the sixth and seventh grades were together.It wasn't a one-room school house, but I guess it wasn't that far away from it. We got a good education there, though.
Right in back of the house is where the P & W Railroad track ran out and around and ended up at the Strafford Station. And across the P & W track is where Edward A. Stroud built his greenhouses. We purchased part of the railroad track, and had to go back to the Stroud family to get them to sign off too. Stroud sold to Alfred M. Campbell in 1916, whose family operated Campbell's Greenhouses there into the 1950s. The Campbell property ran west to the John Palmer estate where later, in 1953, the drive-in movie opened. Across the street was Strafford Hardware for many years, that's now Toppers Spa.
Just across Lancaster Avenue is what was for years known as the Covered Wagon Inn, an eating place said to have originated with builder J. Howard Mecke in the late 1920s. It is a smaller stone house than our house, and has had numerous structures added to, and subtracted from, it over the years to house restaurant seating, a dance floor and, most recently, John Harvard's Brewhouse.
And Sugartown Road has changed, too. It was moved so it dead-ended at Old Eagle School Road at the time the Devon Square shopping center was built about 1970. The state came through and put it in. There wasn't any talking about it. They gave us "x" number of dollars, and then they started taking it back. They said, "Well, you have to put in a side-walk." They said to Mrs. Mossarella that they wanted to charge her for hauling dirt away. I don't know if you knew Mrs. Mossarella, but that was the wrong thing to do. They took a building away from us, but in the end, though, it really made sense business-wise. Now you can't make a left­hand turn. Making a left-hand turn on Lancaster avenue is dumb, anyway.
Some of you may remember the proposals made before they built the highway known as the Blue Route. One of its variations was called the Wayne Spur. They were going to use the old railroad track, and it would have wiped out a lot of South Wayne. Talk about Strafford not being a town now, it would have been wiped out, too. It was quite a battle. I did my first speaking from here, and I learned a lot about treatment.
When we did the renovations in 1976 we found all 18" walls on the ground floor of the building, with what is probably a 24"-36" wall at the end. They had a walk-in fireplace on the ground floor. Each room had a fireplace on the second floor and on up into the attic.
I don't know if you knew Sam Piombino, but he was an architect. We used Charles Okie as architect of record. Charles Okie was registered, Sam Piombino was not, but Sam knew history - early American versus Colonial. Early American is a little more primitive. You can see this up where the rafters of the house were tapered and pinned with a mortise and tennon. They had to be tapered in order to accept the roof.
When we moved here in 1938, our store was on the ground floor and we lived upstairs. There was a living room and dining room, and then there was a kitchen at the back, which incidentally is where we found the letter. (It was preserved very well. It was really pretty neat.)
We never found any drawings or pictures of the house from way back to use as a basis for our remodeling. We had to guess at what it could have looked like. There were two doors along the road, and of course it had a porch which was probably only three or four feet from the road. I guess it was a trade off - to take the porch off so we could get the section built in the back which sits on the boundary line of the right-of-way. We also had the kennel buildings (since taken over by Ron Buckwalter) when I moved here. My dad was the animal person and consequently I was born to it.
And now we're going to do some new remodeling and enlargement. Our tenant, rug dealer J. M. Sorkin, will be vacating their space in the spring. Just to point out, when we did some building in the 1950s both townships, Radnor and Tredyffrin, went together, and we were able to do our addition because the two sat down. Then when we did the 1976 addition, each township did their own thing separately and we couldn't get much cooperation.
Now we're into the building thing again and they are coming from opposite directions. Building across township lines can be a real pain. I don't want to be too derogatory (in a sense I can't think that this would be a classic case), but we've gone to four planning commission meetings in Tredyffrin. They wanted 35% green area on less than an acre of ground, and when we were going for the fifth one, I had a statement written down so I wouldn't start rattling off. I was going to read it, but the gist of it was, "If you people want a park, just finish it and we'll dedicate it to the township."
We tried to end up with a business property with 35% green area and which had adequate parking, and then we went back to Radnor, and they said "Oh, you know you have to do this, you can't do that," and back and forth. This will give you an idea, if you'r going to be doing commercial building, of at least how many hundred plans we've had.
Part of our new plan this year is to do a building which, hopefully, will complement the old house. It will be a tin frame building which resembles a barn. There are six drawings required each time you go to the township - electrical, landscaping and so forth -- and each time you go and get one changed, they all have to be changed.
Tredyffrin will allow head to head parking; Radnor won't, so we put an island in there. Consequently, we had to go ahead and redraw all six. Radnor wants 26 copies (for whom I don't know), and Tredyffrin wants us, each time we make one little change, to make these drawings over again. If it were back in the days when we used to make pencil drawings instead of computers, it would be easy. Well, we have these drawings Bob Andrews made, and in forty or fifty years they'll be history.
We went through a lot to do this and that, but more to save the old building. Renovated versus restored. We tried to restore it as well as we could. It has original shutters - there are a lot of original shutters on there - but I guess it was renovated.
Way back in 1956, a truck came to visit us about 2 o'clock one morning. We weren't open. It was Bill Matlack --I don't know if you remember him. He had a trucking company, a pretty neat guy, but he took off the porch. Although a picture doesn't indicate it, the porch was, I believe at one time, an open porch. I kind of like the idea that we are going to put a pent roof on there instead of a porch like that.
Going back to the old house, it wasn't much to see but we did some interior rearranging to make it functional. We took some walls out. One party wall was the staircase. We cut the staircase and just opened that up, and I don't think it detracted from the building at all. The upstairs pretty much was three rooms. I don't know where or what was way back when, but the center room was a walk-through room. The bath room was a walk-through room, and the bed room was a walk through room, too.
We have obtained variances for both open space and parking, and hope to make some real improvements in our current renovations. We will have only 26% of green area. They did approve that, and I like to look at the building as being a pretty neat looking building when it's finished, being the gateway to both Tredyffrin and Radnor coming in and going out, we will certainly do the best we can to improve the atmosphere of the Main Line, instead of taking it down and putting up a "Butler building."
One of the things I said that I said to the township was, "I could take a paint brush to what exists now, and you couldn't do anything about it." We don't have enough parking now; we don't have any green area; but I could paint it up and there wouldn't be anything done. But because I want to make a change and add to it, they really put on a lot of undue requirements. I understand the reasoning to a point, but it's a long battle and it gets very expensive. I hope I can afford to build the building, but we've come a long way.
My dad used to say, "Why would you want to live here?" I couldn't cross the street until I was 18. Now you'd be lucky to get across Lancaster if the traffic was stopped. It's unbelievable. Yes, we lived there -- my mom, my dad (he passed away in 1966) and me. Mom went up to Devon just after that. I ended up with eight kids. There's no way I was going to live in the business. It's a neat old house. It's a very, very plain house. It doesn't get all the credit it deserves sometimes.
A friend of our John bought a house. I can't think what the name of it is, it's one of two houses down there on Croton Road at Knox. The Apples lived there, and that's a neat house. The kids have done a great job. Unfortunately the Apples' kids turned the heat off, and the pipes burst and everything. [J. Howard Mecke originally renovated the two houses in 1929. Anne Kirkpatrick grew up there in one of them.] The additions to that house added so much to it.
Our house is very, very plain. It had stone walls, and then they were plastered on top of that. I can just picture it now; people would say put aluminum siding on it. In those days they plastered the house. I guess a couple of guys came by and said, "Hey, you want to have your house plastered?" That must have been what it was, because underneath the plaster the stone was all pointed. We took the plaster off. Unfortunately in sandblasting I think we took off some of the patina, too. We tried very hard not to do that. A lot of it was rubble stone, but a lot of it was black granite, too.
I think the sandblasting added to it; then we pointed it. That certainly did not add to the "r" factor though - the insulation. There's no insulation in there at all.
The porch originally extended eight feet past the line of the house.In order to get approval for our renovations in 1976, we took it off. It was kind of a trade off with the township. It worked for a little while. Man made the right of way, man can take it away. They didn't make a change, they went along with it, and fortunately we were able to add a building. It's a neat house, something that will be there at least as long as I'm around. What the kids do with it after that will be their decision. As of January 1st, they do own the business. I'm not really retired - well, I take that back.
There were a lot of really nice buildings in both Tredyffrin and Radnor on the Pike. I mean stone houses. They took down an awful lot of those buildings. It's kind of a shame they did that, but I'm happy the Braxton house still stands.
Chain of Ownership – Braxton Property
Date
From
To
Ref
Size
1795
Richard Miles
Mifflin County
Adam Siters (sic)
Philadelphia
O2, 370
34 acres
1806
Petition to Orphans' Court for division of real estate of Adam Siter who d. 1797
William Siter Jr.
40 acres
1813
William Siter Jr.
storekeeper
Edward Siter
Tredyffrin
I3, 181
42 acres
1839
Edward Siter and Sarah h/w
Henry T. Evans
Philadelphia
R4, 325
47 acres
1852
Henry T. Evans and Elizabeth h/w
Thomas E. Bennett
Birmingham
Titus T. Bennett
Radnor
R5, 2
47 acres
1854
Thomas E. Bennett and Matilda h/w
Titus T. Bennett
Richard Martin
Upper Merion manufacturer
U5, 583
47 acres
1867
Richard Martin and Hannah h/w
Charles Bittle
Radnor
G7, 99
47 acres
1870
Charles Bittle and Sarah h/w
John Palmer
Radnor
U7, 354
24 acres
1903
Bittle heirs
Edward A. Stroud
Philadelphia
I12, 359
20 acres
1916
Edward A. Stroud
bachelor
Alfred M. Campbell
Lansdowne
B15, 57
20 acres
1922
Alfred M. Campbell and Katherine h/w
George N. Leister
Radnor
C16, 419
2 acres
1933
Mary L. K. Leister and George N. h/h
The Wayne Title and Trust Company
D19 , 25
2 acres
1941
The Wayne Title and Trust Company
Edward 0. Braxton
Strafford
R20, 6