Source: Winter 2005 Volume 42 Number 1, Pages 27–28
A. EDWARD NEWTON AND OAK KNOLL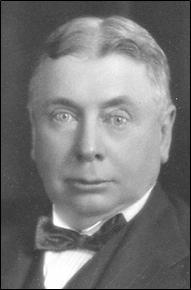 Alfred Edward Newton (1863-1940) is primarily remembered as one of the great book collectors of North America and the library at Oak Knoll, his estate in Daylesford, was one of the finest. He began collecting books as a young boy and his later writings about book collecting inspired generations of young collectors. The Oak Knoll townhouse development on the southeast corner of Lancaster and Glenn Avenues, was built on the original site of Newton's estate and some ruins of estate structures can still be seen from Glenn Avenue.
Newton was a Philadelphia businessman involved in several enterprises and ultimately was the president of the Cutter Electric Equipment Company. Like so many successful Philadelphia executives, Newton wanted a country home and, in 1896, financed the building of his estate, Oak Knoll, by selling some of his books.
The Daylesford train station was already in place when Oak Knoll was built and the grounds at the north end of the estate ran up to the south side of the elevated tracks at the station. Lancaster Avenue had not yet been built. The only major road in the area at that time was the Philadelphia and Lancaster Turnpike which ran on the north side of the station. The underpass just to the west of the station was in place in 1896 and was where the turnpike turned south and then continued west on the south side of the tracks on the route of present day Lancaster Avenue.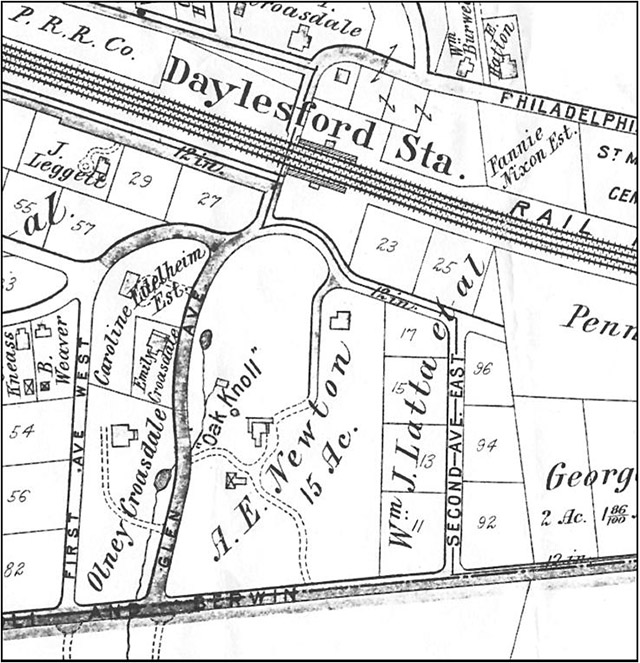 Once Newton settled in at Oak Knoll many literary lights, such as Christopher Morley, Amy Lowell, and Thomas Mann, visited him. Morley was particularly welcomed. Newton didn't turn his back on the community and live like a hermit. He was one of the founders of the Tredyffrin Country Club, and was its first president until it was discovered he neither knew nor cared much about the game of golf. He and his wife, Babette, hosted an annual Christmas party for children of the Daylesford area. With some other husbands, he formed The Hen-Pecked Husbands Club. He presented a somewhat eccentric appearance, favoring checkered suits and bowties to the point that these became his trademark—a trademark he admitted was something of an affectation.
Newton died on September 29, 1940 and is buried in Valley Forge Memorial Cemetery. His collection of books was mainly sold at auction. After his death, Oak Knoll fell into disrepair and ultimately was torn down to make way for the townhouse development.
Sources
"Hob Borgson." "Mr. Newton 'Mutilates' a Book." Tredyffrin Easttown History Club Quarterly, Vol. 29, No.1 (January 1991). pp. 19-24.
G. Edward Buck. "Bibliophile Extraordinaire." Tredyffrin Easttown History Club Quarterly, Vol. 34, No. 4 (October 1996). pp. 141-149.
Bob Goshorn. "When One of America's Leading Book Collectors Lived in Daylesford." Tredyffrin Easttown History Club Quarterly, Vol. 17, No. 1 (January 1979). pp. 13-20.
E. Swift Newton. Remarks Made by E. Swift Newton on the Occasion of His Presentation of the Personal Library Of His Father A. Edward Newton to the Free Library of Philadelphia. Free Library of Philadelphia, 1954.
"Notes and Comments" Tredyffrin Easttown History Club Quarterly, Vol. 18, No. 1 (January 1980). pp. 31-32.
---
J. B. Post is a retired librarian. He is a member of the Philobiblon Club of Philadelphia, the major book collectors' organization in the area. His interest in Newton and Oak Knoll was sparked when he moved into the area and discovered the ruins of Oak Knoll. He makes frequent trips to Oak Knoll Books in New Castle, Delaware.
---