Source: Spring 2006 Volume 43 Number 2, Pages 73–75
Notes and Comments
Students Paint Mural on Railroad Bridge in Paoli
On October 10, 2005 art students from the Delaware Valley Friends School unveiled a mural depicting local railroad history as part of the Paoli250 celebration. The mural runs the full length of the east side of the busy North Valley Road bridge over the Amtrak and SEPTA tracks at the Paoli station. Many of the students and other commuters cross the narrow walkway of the high bridge daily to get between the eastbound and westbound platforms of the station.
The mural shows an old-style caboose, 2 mid-twentieth-century cars, an Amtrak Acela engine, and a background of local rolling hills and a few local historical icons. The students began the mural in April 2005 and used 10 gallons of paint donated by MAB Paints of Paoli. It took 72 classroom hours to plan, 144 hours to paint, 100 paint brushes, and 8 rollers. The Delaware Valley Friends School is located in the former Paoli Elementary School building.
Robert J. Flick Bids Farewell to State Legislature
In a surprise announcement on December 1, 2005, state Representative Robert J. Flick, a resident of East Whiteland, stated his intention not to seek reelection in the 167th District at the 2006 elections. Flick is completing his 12th term in the legislature. First elected in 1982, in terms of seniority he is the 14th-ranking Republican in the state House of Representatives. The 167th District now includes Easttown, Willistown, East and West Whiteland, Charlestown, and East Pikeland Townships, and Malvern Borough.
Conestoga High School Hosts Visitors from China
Students and staff at Conestoga High School held a ceremony on February 2, 2006 to welcome three students and their teacher, from the High School Attached to Fudan University in Shanghai, China. The relationship between Conestoga and the Fudan Attached High School had its origins in 1997 when three
T/E School District administrators and a School Board member visited Fudan Attached bearing a letter of introduction signed by local resident Julie Eisenhower, daughter of the late President Richard M. Nixon.
Subsequently, a number of visits have taken place both in China and here by students and teachers of the two schools. The exchange has proved to be a mutually beneficial experience, providing both Chinese and American students with an opportunity to understand and appreciate their respective cultures and, most importantly, to observe the similarities among people all over the world. The visitors, staying with Conestoga host families, will attend classes at Conestoga and participate in local community activities.
Anson W. H. Taylor, Jr., Respected Public Servant
A man who played a huge role in shaping the fortunes of Easttown Township, Anson W. H. Taylor Jr., died suddenly on March 30, 2006 at age 76. He dedicated more than 40 years of his life to serving his community, starting in 1962 as a member of the planning commission. From 1965 to 1971 he was a township supervisor and chaired the board. Later, he joined the zoning board.
His contributions to the preservation of Historic Waynesborough, where he served on the house management committee after it was acquired by Easttown Township in 1980, were many. He was also a past president of the Landmarks Society which leases Historic Waynesborough from the township and maintains and operates it as a public museum. He was a co-founder of the Waynesborough Country Club and contributed his time supporting many community, arts, equestrian, and land conservation organizations.
Mr. Taylor lived in Connecticut as a youth, graduated from Princeton University in 1951 and from the University of Virginia Law School in 1954. He served in the U.S. Army JAG Corps from 1955 to 1958. He worked as an attorney in Philadelphia with Morgan Lewis and with the Philadelphia National Bank, was general counsel for IU International, and as a partner with Pepper Hamilton.
Business Parks Change Ownership
Ownership of two Tredyffrin Township business parks located along the Route 202 corridor changed hands recently. Chesterbrook Corporate Center and Glenhardie Corporate Center were purchased by Pitcairn Properties of Jenkintown and its partner SEB Immobilien-Investment GmbH, a German real estate mutual fund, for a price of $251 million. The seller was FV Office Partners, a group related to Fox Realty Co., the original developer.
Collectively, the two centers contain 17 buildings on 170 acres equaling more than 1,270,000 square feet of rentable office space. There is still a five-acre parcel left undeveloped at Chesterbrook. Major tenants currently include Shire Pharmaceuticals, Johnson & Johnson's Centocor Division, AmerisourceBergen, Proctor & Gamble, Morgan Stanley, Covalent Group, MEDecision Inc., and the New England Life Insurance Co. Successful companies who got their entrepreneurial start in either Chesterbrook or Glenhardie include The Vanguard Group and SunGard.
Rail-Yard Superfund Site Cleanup Complete
Representatives of Tredyffrin and Willistown Townships met on January 12, 2006, at the General Wayne Elementary School in a joint public meeting on plans for new zoning before taking the next step in implementing the Paoli Community Master Plan adopted in 2001. Township boundaries bisect the village making joint planning essential. Tredyffrin Township Manager Mimi Gleason heads the joint task force.
The first joint public meeting was held in March 2005. The process is moving forward because cleanup of the Paoli rail-yard site is complete. The rail-yard had been designated a Superfund site by the Environmental Protection Agency, and it is now in the post-cleanup monitoring phase. The centerpiece of the Paoli plan is a new, so called, "intermodal transportation" station serving both Amtrak and SEPTA customers, with ample parking and improved traffic flow for cars and busses.
Remembering A. Edward Newton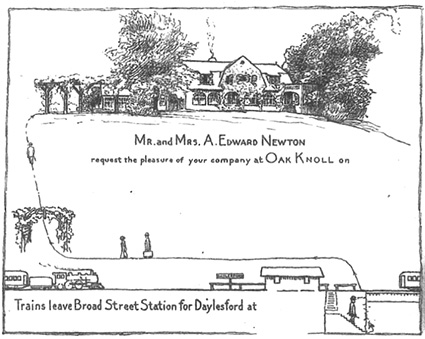 A letter arrived recently from Harvard, Massachusetts. In it was a very special enclosure; a copy of a fancy piece of pale lemon yellow engraved stationary used many years ago for guest invitations by the writer's great-grandfather and Daylesford's most widely acclaimed resident, book collector and author, A. Edward Newton, who died in 1940. Mr. Newton and his family lived at their country place, "Oak Knoll," located on Glenn Avenue south of the railroad, opposite the station. Ms. Carothers, who had telephoned some time ago seeking information about "Oak Knoll" noted, "I appreciate your interest in receiving this. It is always quite affirming when one's family is noticed by others. ... Sincerely, Josephine Carothers, daughter of Josephine Newton."
Five-Mile Run in Valley Forge National Historical Park
A Valley Forge Revolutionary Run sponsored by the Valley Forge Convention and Visitors Bureau on Sunday, April 15, 2006 attracted more than 1,300 people to Valley Forge National Historical Park. This is the first race ever permitted within the park boundaries since it became a national park in 1976. In addition to the 5-mile run, there was a 3-mile walk, and a 1-mile run for kids under 14 years of age. The event raised approximately $15,000 that will be given to the Friends of Valley Forge to help maintain the park's 27 miles of trails.
Mike Caldwell, Valley Forge National Historical Park superintendent called the event a win-win situation, benefiting the park's trail system and providing a new opportunity in the park for recreational runners.
2006 Vassar Show House and Gardens
This year was the 40th anniversary of the Philadelphia Vassar Show House and Gardens and the showcase returned to the historic Willowbrook Farm at 1750 North Valley Road near the intersection with Yellow Springs Roads in Tredyffrin Township. Over 30 rooms and areas were designed by 22 interior designers and the grounds were planted by 11 landscapers. The house was open between May 6 and May 29, 2006. Willowbrook Farm was also the location of the 1996 Vassar Show House.
In 1701 Thomas Jerman bought 300 acres here and established the original Great Valley Mill in 1710 in this location. In the early 1800s Jacob Rickabaugh owned the land and between 1842 and 1900 served as a country doctor with a horse and buggy or sleigh. In 1873 Robert and Mary Tyson bought the house and 109 acres. The property was subdivided in 1974 creating building lots on Hayfield Road, Standiford Drive, and Page Place. The house, barn, and 15 acres were sold to Irvin S. Yeaworth and Jean Yeaworth. They hosted many famous performers at Willowbrook including Mick Jagger and Keith Richards of the Rolling Stones, who helped build the wisteria arbor near the tennis court. At a later date, the Yeaworths gave 9 of their acres to the Open Land Conservancy.