Source: Winter/Spring 2007 Volume 44 Numbers 1&2, Page 54
The Non-Gran Bronze Company
Jack Watson, Alfred H. Smith, and Fred Smith organized the Non-Gran Bronze Company in 1907. Alfred Smith was an English metallurgist who had developed a new type of alloy, which was a non-granular bronze, giving it more resiliency. Jack Watson, of Wayne, handled the administration and was the financial backer. The company's factory, initially consisting of two furnaces, was on the north side of the Lancaster Pike, at the east end of Berwyn.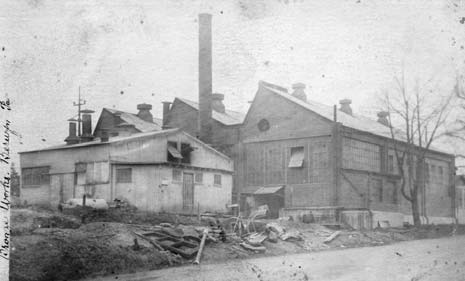 Pioneer automobile, truck, and plane manufacturers used the company's products in the early years. Its bushings and bearings were used by Stutz, Packard, Locomobile, and Maxwell in their automobiles. Case, Autocar, and Mack were among the truck manufacturers using the products; and they were also used by Curtiss and Dusenberg in airplane engines.
The company was successful and expanded. One of the company's successful products of the time was the "6-54 assortment." It consisted of six 12 inch bars of varying wall thicknesses from which could be made any of the 54 standard, and all intermediate bushing sizes. Initially the product was sold to the automobile repair trade. During the first World War every truck sent overseas with the Army was equipped with one of these "6-54" kits for emergency repairs.
The bushings for the engine that powered the "Spirit of St. Louis," in which Charles Lindbergh made his historic first non-stop trans-Atlantic flight in May 1927, were made by the company. Similarly, some years later, the plane that took Admiral Richard Byrd to the South Pole used the company's bushings.
During the 1930s the company broadened its technology to include beryllium-copper and aluminum-bronze bushings in the newly perfected variable pitch aircraft propellers. The company's operations expanded considerably in World War II, the number of employees increasing from 140 in 1939 to 1,000 in 1942. The plant operated on a 3 shift, 7 days a week basis. The physical plant also expanded with the old Wayne ice plant being converted to a machine shop. Several storage areas were located in Bryn Mawr.
War production stopped suddenly in 1945 with the reception of a telegram from the government canceling all orders immediately. The company then contracted to equate its capacity to its reduced business.
With the developing technology the company changed its product lines after the War, purchasing and processing nickel-cast iron alloy castings needed for high running temperature engines. It continued to be a major supplier in the aviation field.
In 1958 the employees struck over wages. This was a long strike of 13 weeks. During this period the company was sold, and the business soon after was transferred to Chicago. A sorry end to a great local company.