Source: Winter/Spring 2007 Volume 44 Numbers 1&2, Page 82
The Reverend David Jones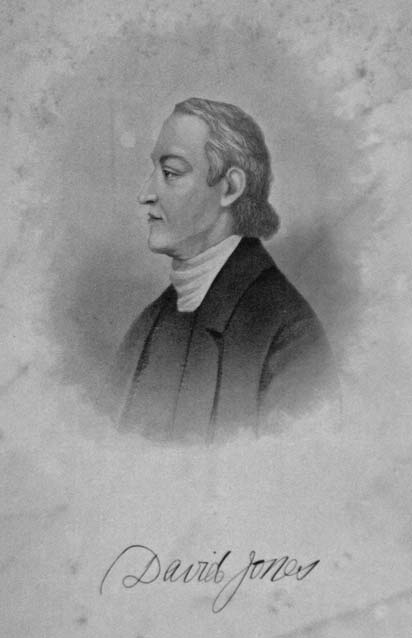 David Jones was born in 1736 in White Clay Creek Hundred near Newark, Delaware. In 1775 he arrived in Tredyffrin with his family to become the co-pastor of the Baptist Church in the Great Valley.
The Reverend Jones was hostile to the British Government's measures and a powerful advocate for the Revolution. In 1775 the Continental Congress called a Day of Prayer. Jones preached a sermon in front of the church meeting house to the troops of Colonel Dewees' regiment, ending it with a stirring call to revolution.
When war broke out Jones immediately enlisted in the Continental Army. He was the chaplain for General Anthony Wayne, and narrowly escaped injury or death in the Paoli Massacre. Due to his oratory abilities that he used to encourage the troops, the British keenly sought him, but he was never captured. The British raided the Baptist Church in 1777, stole church belongings, and damaged the parsonage farm.
Jones carried a gun during the Revolution. It seems that one night he was traveling by himself and dropped in at a tavern. He found a British officer there, promptly arrested him as his prisoner, and took him to General Washington at Valley Forge.
After the war he left the Valley for several years, returning for a second period as pastor in 1792. He left the Valley in order to support the army as a chaplain on two other occasions.
Between 1794 and 1796 he served with General Wayne in the Indian wars in Ohio and Indiana. And between 1812 and 1814 he served in the war against the British (at the age of 76).
When General Anthony Wayne's remains were re-interred at St. David's Church in 1809, the Reverend Jones gave the funeral oration. He was well known as an eloquent speaker and crowds of people came to hear him speak.
David Jones died in 1820, at the age of 83. He is buried in the churchyard of the Baptist Church in the Great Valley.