Source: Summer 2007 Volume 44 Number 3, Pages 112–114
The Shoe Makers Shoe Maker
The Quici Family of Berwyn
Old skills are difficult to replace, and being a shoemaker is just one of them. This is especially true in a world of high technology and a willingness to sacrifice quality for speed and sometimes price.
For over 85 years, Berwyn has been blessed with 3 generations of family shoemakers providing the best quality of service for the surrounding community and for equestrians throughout the world. The Quici family has been a fixture in Berwyn for so long, we forget they are the second oldest business in the village after Fritz Lumber.
Today Joseph Quici‐named for his grandfather‐runs the family business with the able assistance of his mother Julia. A product of Berwyn, Joe currently lives in Phoenixville with his wife and daughter. His mother and sister Ann continue to live in the only single family residence on Lancaster Avenue within the Berwyn business district. Julia also tends her 80-year-old grapevine which is visible from the street. What does she make with those concord grapes besides jelly and juice?
The Quici family business has been a fixture at Woodside and Lancaster Avenues since August 16, 1920, when grandfather Joseph M. Quici bought the house and property from the Krider family, who moved to Wildwood, New Jersey. Joseph had arrived in the United States in 1916, having left his young family behind in the small, hilly town of Castelemauro in the Abruzzi region of central Italy. A trained shoemaker whose father was also a shoemaker, Joseph‐called Giuseppe in Italy‐was looking for a new life for his young family.
He opened his small shop at its present and only location and called it "High Grade Shoe Repair." With time and a better understanding of America and the local people, he changed the name to "Riding Boot and Shoe Service"‐the name that exists to this day.
The shoe making business took off, and Joseph gained the reputation as a master craftsman. The Devon Horse Show brought even more recognition and notoriety. Equestrians from all over the world came to the show and discovered Joseph. Locals knew that during the horse show time frame equestrians, who made appointments in advance, took priority. Often the repaired boots and saddles had to be sent by mail due to the demand both nationally and internationally.
Joseph's first wife died having given him 3 children, including a son, Edmond, born in Italy in 1912. They joined Joseph in America after he was settled into his new life. All have since died. A second marriage produced two more children, Sandy and Lucy (Scutti). Both live in the area and are members of Saint Monica Parish along with Julia Quici, Edmond's wife.
Joseph built a solid business, and taught his son Edmond the shoe repair business as well. Like his father, Edmond wanted to go off and seek his own success. He did it by going all the way to Devon to take ownership of Devon Shoe Repair, which his father helped him purchase.
Edmond's dream of a full life in America was complete when he met and married Julia Constantine on May 31, 1947. They met one another in 1946. Julia had come to Wayne on March 7, 1939 after a number of moves in Ohio and Pennsylvania. She was first generation Italian American. Her parents, Vincent and Maire, were both born in Italy.
In his later years, grandfather Joseph Quici was unable to continue operating the business he had spent years building. His wife, Anita, died in 1965 and he closed the shop for approximately 2 years before he asked Edmond to reopen the business and keep it going in Berwyn. In 1969 at the age of 86, Joseph died and is buried in Saint Monica Cemetery in Berwyn. By this time Edmond had closed his Devon store and taken over the full time operation of the repair store in Berwyn.
Julia and Edmond's two children, Joe and Ann, have stayed close to home. The house is approximately 100 years old, and built as solid as a rock. The family moved into the house on March 7, 1958, just 17 years after Julia first moved to Wayne. Evidence of family is everywhere: family pictures, home-made quilting, heirlooms, and mementos. Daughter Ann lives with Julia. Ann was widowed after only 3 years of marriage, raised 2 children, spent 18 years as a teacher, and worked 20 years in the Italian food business.
The shop's only major change came about 35 or 40 years ago when Edmond and his son Joseph decided to close off the 2 east side windows in order to gain needed shelf space. Besides, you could never get the windows to open. Father and son then had the simple idea of painting the shop name on the blank east exterior and adding a large black boot. An area landmark to this day, anyone coming to Berwyn from the east for the first time is told to look for the "black boot."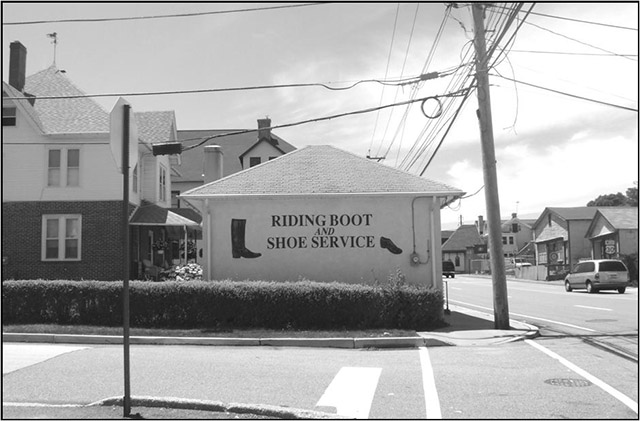 Directions to weddings, churches, and parties almost always include the "boot." A number of years back the wall was being repainted and a teenager was crossing the street. He yelled at Joe not to paint over the "boot." "How will my friends know how to get to my house?"
The Quici family has always had a philosophy that everyone is important, no matter who they are. Walk into the shop today, and you are given a big hello. Joe tells the story of his father being a really huge Phillies fan and not paying attention to any other sport. One day a very tall man came into the shop while Joe was busy fixing a shoe. Edmond served the customer whose large shoe size caused Edmond to comment that "a fellow as tall as you should think about playing basketball." The customer responded that he did. He was Darrall Imhoff, the center for 76ers from 1968 to 1970. Many celebrities have been customers over the years, including rock star Chubby Checker and Greg Gross and Curt Schilling of the Phillies, to name just a few.
The clutter in the shop is most deceiving. To the uninitiated, it would appear that chaos has hit. To young Joe, his memory is right on the money, most of the time. Walk in after leaving your shoes for repair, and Joe can find them instantly. As we remember faces, Joe remembers shoes by putting the face and the shoe together in his mind. Many boots and shoes have been there for years waiting for their rightful owner to return. Joe will remember because there is now a story about how long they've been there to go along with the face and shoe.
Joe was adding 2 inches to each of 4 belts when last the writer visited. They were special to the owner and he traveled from Newtown Square to make sure they were done right. Other customers included a women needing her shoes stretched for an upcoming ocean voyage, and the repair of a new pair of shoes for a man who had a nail coming through the sole.
For the veterans of Berwyn, Joe has sewn extra strong leather straps on the flags that fly from the memorial at the train station. If it needs fixing, take it to Joe as many have done for years before with his father Edmond and his grandfather Joseph.
The village of Berwyn has been blessed with the presence of the entire Quici family over the last 86 years. The business cards Edmond had made would tell people the shop was across from the "ice plant" which no longer exists. Many things have changed in the village, but the reputation of the Quici family remains.
It was a distinguished Chester county figure of the hunt world—the late David B. Hart, known among other things for his hearty laugh and his car that never exceeded a speed of 15 miles—who first discovered Mr. Quici's talent with boots, sometime around 1922. As the 79-year-old boot-maker remembers it, Mr. Hart was a little startled at the cost of the first work Mr. Quici did for him. But when he discovered its superior quality he returned to the shop and said, "If you like to work with boots why don't you put up a sign and say so." Mr. Quici took his advice and and says that more than anyone else, David Hart, member of an old family with farms in the present Leopard Lakes area, gave him the boost he needed, at the Devon Horse Show and the various hunts. – Quotation from an extensive unsourced newspaper article about the Quici family thought to be dated ca. August 1963.
---
Bill Bellew has lived in Berwyn for 33 years and has been a customer of the Quici shoemakers for 25 years. He tells the story of a rider at the 2007 Devon Horse Show from North Carolina who, at the end of the show, left her boots at the Quici shop with the arrangement that they would be mailed back to her after they were repaired.