Source: Winter/Spring 2007 Volume 44 Numbers 1&2, Page 71
The Great Valley Township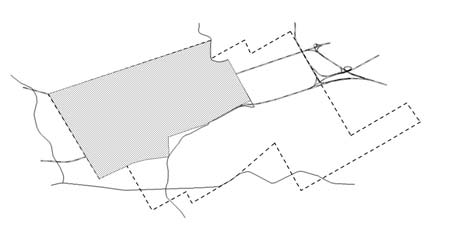 In 1959 the Tredyffrin Township Planning Commission issued a report discussing the effect upon the township of metropolitan Philadelphia's expansion. The objective of the report was to focus the community's attention on the need for a positive land-use policy to guide this growth.
A sensitive section of the report dealt with the potential for industrial development. It documented the excellent facilities and land available to support such development. Some 3,000 acres were identified for possible industrial use.
A meeting of concerned residents took place. These residents represented a small number of the township's voters, but were owners of a considerable portion of the land in the township. It was proposed and approved by the meeting that an attempt should be made to secede from the township, and form the new borough of Great Valley.
Initial planning showed the financial feasibility of a new borough and a petition was filed with the county court. Nearly 200 people signed the petition, representing a majority of the landowners of the proposed borough.
The area of the proposed township was a little over 5,000 acres out of the Tredyffrin total of 12,800. The area had a population of 843 out of a total of nearly 14,000 for Tredyffrin.
Tredyffrin Township promptly opposed the proposal. One of the arguments against the proposal was that there was no town, or village, in the proposed township which was required by the law covering the creation of new townships. This was somewhat ironic considering it is not clear that Tredyffrin as a whole met the requirements, although the southern portion of the township certainly was built-up.
A counter petition was presented to the courts and statements against the petition were submitted by the Warner Company (who owned the Cedar Hollow Quarries), the Burroughs Company, and the Bethlehem Limestone Company.
The hearing on the petition was initiated in May 1959. Witnesses supporting the petition stated that they wanted to keep the valley open, rural, and beautiful, and were opposed to the designation of areas as industrial development zones. Witnesses against the petition said they were satisfied with the present form of government, although some of them supported the concerns underlying the petition.
The judge denied the petition on the grounds that the area was not one harmonious whole, having homogeneity, and a common interest to be served by a borough government.
Time has shown that the Planning Commission's predictions were accurate, and the underlying concerns of the petitioners were well founded. With hindsight, it is not clear that the formation of a Great Valley Township would actually have stopped the development of the area.