Source: Winter/Spring 2007 Volume 44 Numbers 1&2, Page 84
Philander C. Knox
History is not kind to some people, and Philander Knox is one of those. He is probably the most powerful politician to have lived in Tredyffrin. By that measure alone his biography needs to be included in this history.
Philander Knox was born in Brownsville, PA in 1853. He took up a career as a corporate lawyer. Working for Carnegie Steel, he took a prominent part in the organization of the U.S. Steel Corporation in 1901. He also represented other corporations at the time of the "robber barons" working with J.P. Morgan, Rockefeller, and Vanderbilt. In doing so he became a multimillionaire.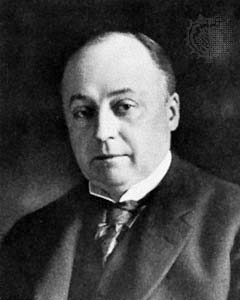 Between 1901 and 1904 he was Attorney General in the McKinley and Roosevelt administrations. As such he was responsible for anti-trust prosecutions. He ensured that his friends suffered little.
Knox purchased 256 acres in Tredyffrin and Schuylkill Townships in 1903, centered around Maxwell's Quarters. Knox built the buildings we see today, which presently house the Valley Forge Park Library. He also had a track built for his racehorses in the meadow by Valley Creek. In 1904 he was appointed to fill a vacated Pennsylvania seat in the Senate, which he held until 1909. He made an unsuccessful bid for the Republican presidential nomination in 1908.
Philander was Secretary of State in the Taft administration from 1909 until 1917. He was the most powerful figure in the Taft administration, and drew up the lists from which Taft appointed his other cabinet members, many of whom were intimately concerned with the giant corporations. He was Taft's primary confidante.
Knox pursued corporate interests abroad by using the United States' economic power as an adjunct to gunboat diplomacy. In 1909 he tried to establish control over Honduras by purchasing its debts from British bankers. He also supported military intervention in Central America through financial actions. Knox was involved in meddling in the approval of the 16th amendment to the constitution (allowing the government to impose income taxes).
Between 1917 until his death in 1921, Knox represented Pennsylvania in the Senate for a second time. He is interred in the Washington Memorial Cemetery at Valley Forge.
His most famous quote concerns the acquisition of the Panama Canal: "Oh, Mr. President, do not let so great an achievement suffer from any taint of legality."