Source: Winter/Spring 2007 Volume 44 Numbers 1&2, Page 85
Wharton Esherick
Wharton Esherick was born in 1887. A native of Philadelphia, his father unsuccessfully tried to steer him into a business career like his own. He studied painting at the Philadelphia School of Industrial Arts. In 1908 he received a scholarship to the Philadelphia Academy of Fine Arts where the traditional dogma was stressed, while new ways of painting were discouraged. In reaction, he quit a few weeks before graduation.
Wharton became interested in the philosophy of Henry Thoreau's book, Walden. He and his new wife desired escape from Philadelphia so in 1913 they purchased a farmhouse in Tredyffrin where they lived a spartan existence practicing a simple life.
In 1924 after unsuccessful attempts to sell his paintings in New York, he changed medium and became involved in producing wood block images for book illustrations. He also started making simple home furniture.
By the mid-1920s, Jasper Deeter had established a repertory theatre company and community in nearby Rose Valley. This eventually became the Hedgerow Theatre, supported by Bok of Curtis Publishing, and Joseph Fels, the soap magnate. Wharton carried out carpentry work there, and designed and painted stage sets. The rest of his family was also heavily involved in the theatre.
In 1926 he began building a wood-working studio on the hill behind his farm house. This studio is now the Wharton Esherick Museum, a National Historic Landmark for Architecture.
In his work he abandoned foreign woods as working materials, replacing them with local materials. Although unpopular at the time, Wharton persevered with his artistic direction, producing wooden furniture with rounded corners and natural shapes.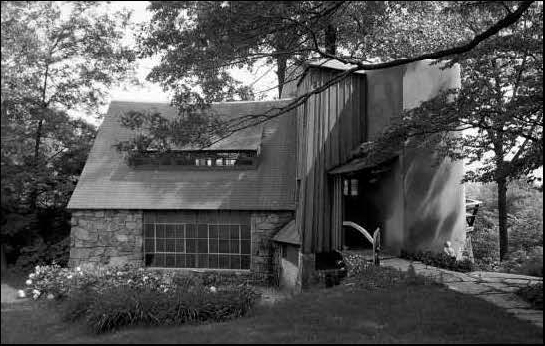 In the late 1960s hand craftsmanship regained popularity and Wharton was hailed as the dean of American craftsmen. He died in 1970. His sculpture, furniture, and woodcuts are in the permanent collections of major American museums, including the Philadelphia Museum of Art, but the largest collection is at his studio, near Diamond Rock Road.