News
---
Quick Links
---
Top
Our Next Meeting
At our next meeting on Sunday, September 15, 2019 at 2:00 pm, the featured presentation will be:
Images of the Thomas Massey House from their website



The Story of the Thomas Massey House

by Rich Paul

The Thomas Massey House in Broomall is a well-preserved 18th-century residence open for historic tours, as well as serving as a restaurant. Rich Paul is the First VIce President of the Board of Directors of Thomas Massey House, and will guide us on an exploration of its history.

The Thomas Massey House is a monument to the American dream – the home of an indentured servant who became a landowner, and like the American dream the house has endured over 300 years. The Thomas Massey House is one of the oldest English Quaker homes in the Commonwealth of Pennsylvania. It is on the National Register of Historical Places, and the Historical American Building Survey.

The Thomas Massey House is unique because so much of the original fabric has survived. The 1696 brick portion was built by Thomas Massey as an addition to the existing log or frame house. In 1731 his son, Mordecai, replaced the log or frame house with a stone section. During the restoration, evidence of a walk-in-fireplace and beehive oven was discovered. These features have been reconstructed and are in use today.

In 1964 the Massey House was on the verge of demolition when a descendant, Lawrence M.C. Smith bought the house and one acre of ground, and gave it to the Township of Marple for restoration. Restoration was to be completed in ten years. Although the "plantation" is now only one acre, gardens of the period are maintained. The Massey House is presently furnished with appropriate late 17th and 18th century furniture.

— adapted from the Thomas Massey House website

This presentation will be held at the Tredyffrin Public Library in Strafford, PA on Sunday 15 September 2019, starting at 2 pm.
---
Top
Upcoming Presentations and Events
Click on the active links to view more information on these meetings coming up in the months ahead:

15 September
Tredyffrin Library
The Story of the Thomas Massey House by Rich Paul
20 October
Tredyffrin Library
* Roads of Tredyffrin by Mike Bertram
17 November
Tredyffrin Library
* Frank Furness: Architecture in the Age of the Great Machines by George Thomas

* More information about these upcoming meetings and events will be available soon.
---
Top
Special Events Sponsored by Other Organizations
---
Tredyffrin Community Day
The Society expects to exhibit again at the 2019 Tredyffrin Township Community Day — "Party in the Park" — on Saturday 21 September 2019 from 4 pm until 7 pm at Wilson Farm Park in Chesterbrook.
---
Paoli Battlefield Heritage Day
The Society expects to exhibit again at the 2019 Paoli Battlefield Heritage Day on Saturday 21 September 2018 from 11 am until 4 pm at Paoli Memorial Grounds in Malvern. Please come out and enjoy the various all-ages activities.
---
Mt. Zion AME Church 170th Anniversary
Mt. Zion AME Church is celebrating their 170th Anniversary on Saturday 21 September 2018 from 10 am until 4 pm at 380 North Fairfield Road in Devon. Please visit the Mt. Zion website for more information.
.
---
Historic House Tour
On Saturday 28 September, the Tredyffrin Historic Preservation Trust will hold their 15th Annual Historic House Tour from 12 until 5 pm. The proceeds support the rebuilding of the historic Jones Log Barn and the proposed Living History Center at Duportail. Tickets available now.
---
Paoli Blues Fest
The Society exhibited in past years at the Paoli Blues Fest, but for various reasons, did not exhibit at the 2018 event, and will not attend the 2019 event to be held on Saturday 28 September 2019 from noon until 6 pm at Paoli Presbyterian Church. See more about the Society's past involvement here.
---
Top
Society Special Events
"Behind the Doors"

The original Tredyffrin Easttown History Club occasionally held meetings at the various historic Inns in the area, as noted in this quote from an article about the history of the Club found in the October 1965 issue of the Quarterly (v.13 no.4, pg. 80):
On March 7, 1939 the first annual Banquet was held at the Windmill Tea Room (the General Jackson Inn) at Paoli. Originally the Club had these affairs at some historic inn. To date the following Inns have played host: The King of Prussia (once), Ye Old Bull Tavern (three times), General Warren (twice), Wayside Inn (General Jackson) (Five times).
Starting in 2013 this tradition was revived. So far we have visited two inns, both with tours and history presentations followed by a delicious five course food and wine pairing dinner. Both events were a great success and we look forward to more in the future. For more information, view the individual invitations for these events:
A portion of the proceeds from these events benefits the Tredyffrin Easttown Historical Society.
---
Top
Our Most Recent Meeting
At the public meeting on Sunday, May 19, 2019, the featured event was:
Stoneleigh House and Garden Pergola © John O. Senior, May 2018



Ethan Kauffman, May 2019 © John O. Senior

Ethan Kauffman is a public garden administrator and horticulturist. He currently serves as the director of Stoneleigh: a natural garden, a 42-acre former estate located in Villanova, PA, which opened to the public in May of 2018. At Stoneleigh, he enjoys creating a garden experience that inspires others to plant for beauty, biodiversity and ecological function. Previously, he served as director of Moore Farms Botanical Garden, where he led the transition from a private pleasure garden to a non-profit botanical garden, which included the creation of public programs, operating policies and the mission. Ethan believes that horticulture connects us to the natural world, and exploring this relationship is vital to understanding and defining our place in it. He received a B.S. in Biological Sciences from Clemson University.

Stoneleigh: A Natural Garden

by Ethan Kauffman

Stoneleigh: A Natural Garden opened to the public for the very first time on Mother's Day weekend in May 2018. Prior to becoming the Philadelphia area's newest public garden, it was a grand Main Line estate and home for three of the region's most prominent families. Stoneleigh's director, Ethan Kauffman, explored the compelling history of this spectacular property, and how its past has shaped the garden that exists today.

For nearly 80 years, Stoneleigh was the home of the Haas family, who donated the property to Natural Lands in 2016 so that it would remain preserved forever. After much preparation, planning, and planting, Stoneleigh: A Natural Garden opened to the public in May of 2018.

Today, Stoneleigh is a stunning reflection of more than a century of loving care by three different families. Extraordinary trees, sweeping vistas, and intimate garden spaces offer a variety of opportunities to explore, learn, relax, and be inspired.

The Tudor Revival mansion at Stoneleigh was the Haas family home for generations. Today, it serves both as home to the Organ Historical Society – an organization that celebrates, preserves, and studies the pipe organ in America, including one that the organization has installed in the house – and a space for a wide variety of programs in the future.

Stoneleigh is also a showcase for blending the aesthetic beauty of designed gardens with the natural richness of native habitats that are essential to the health of our planet.

— adapted from the Stoneleigh website

This presentation was held at the Easttown Library & Information Center in Berwyn, PA on Sunday 19 May 2019, starting at 2 pm.
---
Top
2019 Member Excursion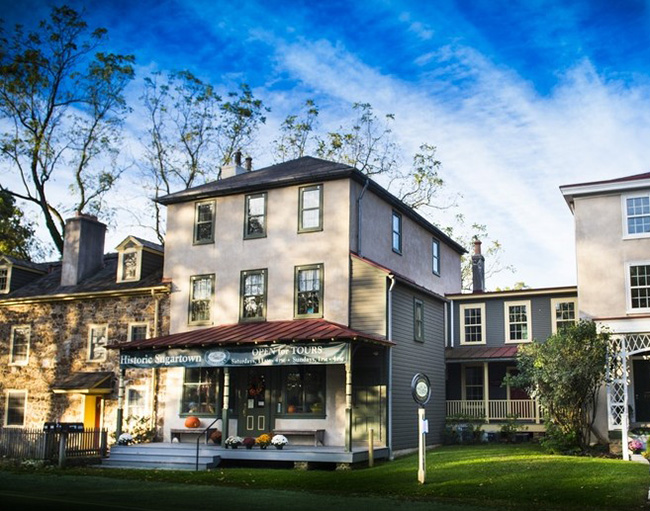 The General Store and adjacent structures. © 2018 Compli Photography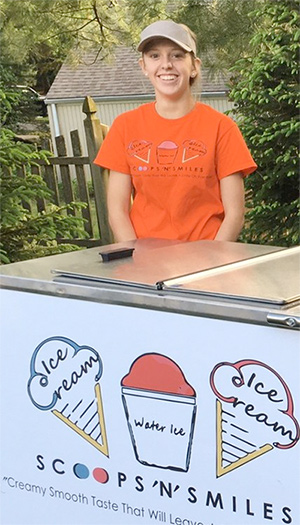 On Sunday, 16 June 2019, all current Society members were invited to join us for our Annual Member Excursion, which this year took us to Historic Sugartown in Malvern.
Along Sugartown Road in Willistown Township stands the remarkably intact and lovingly restored, 19th-century village of Sugartown. In the early 1800s, with the American Revolution behind them, Sugartown's early residents established a school, general store, other businesses, and meeting places, creating a vibrant crossroads that provided goods and services to its surrounding farming community. The village was soon known as Shugart's Town, after tavern keeper Eli Shugart, and served as a vital stop for weary travelers hauling wagonloads of goods to the markets of Philadelphia and other parts of the county. Sugartown remained a social, educational, commercial and municipal center throughout the 1800s.
With the guidance of tour guides, we explored nineteenth-century village life and culture through rich collections and authentically restored buildings of Historic Sugartown. Our tour featured the General Store, the Ivanhoe Lodge within the same building, the Carriage Museum, 1805 William Garrett Quaker Farm House, the Cheever Bank Barn, and the Book Bindery, with special demonstrations of bookbinding and paper marbling.
Following the group tours, we enjoyed a Victorian-era-inspired Ice Cream Social, along with other snacks, for our refreshment on an early summer Sunday afternoon, as well as gathering for conversation and watching the wonderful paper-marbling demonstration. As has been the case for the past few years, we werejoined again this year by members of the King of Prussia and Radnor Historical Societies.
RSVP: To assist us with planning for the event, we asked that participants let us know that they were planning to attend. The cost per person was $10.00, payable by cash or check upon arrival.
When:
1:00–3:30 pm, Sunday, 16 June 2019
Where:
690 Sugartown Road
Malvern, PA 19355
Directions: Historic Sugartown is located at 690 Sugartown Road, near the intersection with Spring & Boot Roads, 1.2 miles south of Paoli Pike in Malvern. By GPS, enter 273 Boot Road, Malvern, PA – it should direct you right to Historic Sugartown's parking lot.
---
Top
Paoli Inn Historic Marker Dedication
Paoli Inn historic Marker

To commemorate the long-gone Paoli Inn, the Paoli Business & Professional Association (PBPA) has placed an historic marker on the original site, near the eastern end of the Paoli Plaza at the Paoli Village Shoppes, close to the North Valley Road bridge and the Paoli train station. Society members were invited to join the dedication celebration, and many did come out to support this recognition of an important part of Tredyffrin Township's historic legacy.

Due to the rainy weather forecast for the original date, the postponed event was held on Thursday, 16 May 2019 from 2:00–2:30pm at The Paoli Village Shoppes, near the Paoli Train Station and the North Valley Road bridge.

In addition to remarks from members of the PBPA, there were several invited speakers, including Society VP Bart Van Valkenburgh, Tredyffrin Township Supervisor Murph Wysocki, and Pennsylvania State Representative Melissa Shusterman. Seven members of the Revolutionary Military Honor Guard, dressed in period uniforms, also participated in the ceremony.
---
Top
The Society Supports the Paoli Blues Fest
2017 Paoli Blues Fest poster with artwork by Dane Tilghman

2017 festival scene near the end of the day

On Saturday, 7 October 2017, the Society participated as an exhibitor for the seventh consecutive year in the nine-year history of the Paoli Blues Fest. We were pleased to have nice late-summer weather and a good turnout, this year in the new location at Paoli Presbyterian Church.

The ten-by-ten foot exhibit tent was located at booth position #54 near the northwest corner of the parking lot exhibit area. The steady stream of visitors who visited the tent throughout the day were fascinated by the diverse collection of historic photographs on display, and enjoyed having the opportunity to both learn about, as well as share their knowledge of, local history. This year we displayed a new set of large, poster-size images of the Main Line Airport for the enjoyment of our vistors.

Exhibiting at this community event is a wonderful way to introduce the Society to a new and wider audience, as well as to connect with many friends who stop by to chat. If you are interested in the enjoyable work of helping to staff the booth, please contact the Society by email or speak to one of us at a Society meeting.

Information about our Blues Fest participation in previous years can be found here: 2011, 2012, 2013, 2014, 2015, and 2016.

Roger Thorne talking with visitors in the 2017 booth
---
Top
TEHS Programs on Tredyffrin Township TV
A selection of pre-recorded programs featuring presentations from past meetings of the Society are available for viewing on Tredyffrin Township Television, found on Comcast Channel 15, Verizon Channel 24 and On-Demand.

We are looking for volunteers who would be willing to assist with the recording of our presentations for later broadcast. Free training is available to township residents at the Greenwood Studio facility in the Township Building. Please contact us or Studio Manager Gene Donahue if you are interested.

Program Schedule:


7 am on Sunday and Monday
1 pm on Monday
7 pm on Thursday and Saturday
---
Top
TEHS exhibits at local public libraries
Did you know? The TEHS maintains a display case of local history materials in the Local History Room at the Tredyffrin Public Library.

The current exhibit highlights Herb Fry's book collection.

C. Herbert Fry was an active contributing member and officer of the Tredyffrin Easttown Historical Society for over thirty years. Herb gave numerous talks and wrote over two dozen local history articles for the Society's History Quarterly periodical. He and his late wife Barbara amassed a collection of historical photographs, books, articles and other research materials that filled two closets. Following his death in July 2018, all of his local history materials came to the Society. One of his special interests was Valley Forge, and his books on the subject numbered over forty. Eight of these are displayed in this case.

Another example is this book by Frank Resavy & Tom McNichol.
---
| | |
| --- | --- |
| | During the month of April 2018, a display case in the main entry hall of the Easttown Library & Information Center in Berwyn contained an exhibit featuring nine historic photos of Berwyn with intriguing captions, testing the viewer's knowledge of the area. |
---
Top
CBS 3 SummerFest visits Devon
On Friday 2 June 2017, as part of their ongoing SummerFest series, local television network affiliate CBS 3 (KYW) spent much of the day at the Devon Horse Show & Country Fair, with a video crew and several on-screen personalities, exploring various aspects of the event. A combination of pre-recorded and live segments appeared during the Eyewitness News broadcasts at 5, 6, and 11 pm.
Earlier in the week, Society president John O. Senior, and former president Michael Morrsion were interviewed by producer Aubrey Clerkin about the historical background of Devon. The Society provided several historic photos that were included in the program, along with short segments from the interviews. The first portion of the program, focusing more on history and including this content, was originally shown on Friday just after 5 pm, and is provided below.
The complete story, as it appears on the CBS 3 website may be viewed here.
---
Top
TEHS at the Devon Horse Show and Country Fair
Front cover of the 2014 book



Roger Thorne and a visitor at the TEHS table at Devon



From 22 May – 1 June 2014, Society members staffed a table located at northwest corner of the Committee Stand, very close to the main entrance, where our publication "Rediscovering Devon" (prepared in collaboration with DHSCF) was on sale. Many people stopped by and visited, and many others passed by and admired the large timeline banner immediately above our display table.

On Friday 12 September 2014, we once again set up our display table in the same location during the Devon Fall Classic.

John & Nancy, Dixon, Jim & Herb on "booth duty"



On 15 June 2014, the Society held our 2014 Member Excursion at DHSCF.
Click here for more information and photos.
---
Top
S. Paul Teamer Awards
As we passed the milestone of our 75th anniversary as an organization in 2012, it seemed fitting to establish a new annual award to recognize the especially significant contributions made by some of our members over the years. In considering what name this award should have we decided to reach back to the very beginning of what was then The Tredyffrin Easttown History Club and to founder and first president S. Paul Teamer. It is certainly worthwhile to look back at those first few volumes of the Quarterly and rediscover the noteworthy articles written by Teamer and his colleague Franklin L. Burns, among others, who set a high standard for those who followed.

S. Paul Teamer Award Recipients
(† posthumous, * since deceased)

| | |
| --- | --- |
| 2012 | Sue Andrews, Herb Fry*, Joyce Post* |
| 2013 | Bob Goshorn†, Mike Bertram |
| 2014 | Franklin L. Burns†, Roger D. Thorne |
| 2015 | Barbara Fry†, Mary Robertson Ives*, Clarissa F. Dillon |
| 2016 | John O. Senior |
| 2018 | Tim Lander, Cheryl Leibold, Michael Morrison |
| 2019 | Jim Brazel, Heidi Sproat |

At the January 2012 Annual Meeting, we were pleased to present the S. Paul Teamer Award for outstanding contributions to the Society to the first three recipients: Sue Andrews, Herb Fry, and Joyce Post.

At the January 2013 Annual Meeting, we were pleased to announce the names of the next two recipients of the award: Bob Goshorn (posthumous) and Mike Bertram. Since Mike was unable to attend this meeting, his award will be presented at a future meeting.

At the January 2014 Annual Meeting, we were pleased to announce the names of the 2014 recipients of the award: Franklin L. Burns (posthumous) and former president Roger D. Thorne.

At the May 2015 Meeting (rescheduled from the January 2015 Annual Meeting cancelled due to adverse weather conditions), we were pleased to recognize the 2015 recipients of the award: Barbara Fry (posthumous), Mary Robertson Ives (emeritus), and Clarissa F. Dillon.

At the January 2016 Annual Meeting, we were pleased to present the award to: John O. Senior.

(L-R): Roger Thorne and Society President Michael Morrison
with 2016 award recipient Vice-President John O. Senior

For several reasons, the award was not presented in 2017, but at the January 2018 Annual Meeting, Michael Morrison, Tim Lander, and Cheryl Leibold were recognized as new recipients.

At the January 2019 Annual Meeting, Heidi Sproat (unable to attend) and Jim Brazel were recognized as new recipients.

Society President Michael Morrison with 2012 award recipients
(L-R):Joyce Post, Morrison, Herb Fry, Sue Andrews

Society Vice-President John O. Senior with 2014 award recipient Roger Thorne and President Michael Morrison

(L-R): Roger Thorne (on behalf of Mary Roberson Ives), Herb Fry (on behalf of Barbara Fry), President Michael Morrison, and Clarissa Dillon
receive the 2015 awards

2018 award recipients Michael Morrison, TIm Lander, and Cheryl Leibold with President John O. Senior (Note: The Philadelphia Eagles were playing for the NFC championship later that day, so John was wearing the team colors.)

2019 award recipient Heidi Sproat
with John O. Senior

2019 award recipient Jim Brazel
with Roger Thorne
---
Top
Society Elects New President
At the January 2012 Annual Meeting, the Society elected Michael Morrison as its new president. Michael took over from Roger Thorne who served as president for nine years, leading the Society through a period of remarkable change and growth, including the transition to a 501(c)(3) organization. Roger will remain active as Board of Directors Chair with our thanks and appreciation for his vision and dedication.

Michael is a published historian who led the Archives Committee for several years, and his passion for history and great enthusiasm for the Society has helped us to continue to grow and develop.

Michael Morrison and Roger Thorne



In April 2016, Michael stepped down and Vice President John O. Senior took on the duties of President. Michael remained very involved and continued to serve on the Board of Directors through 2018.

John initially became involved by creating the Society's website in 2006. His role gradually expanded as he managed the digital conversion of the History Quarterly back issues, serving on the board since its inception in 2008, and as Vice-President starting in 2010, and he has been editor-in-chief of the History Quarterly since 2013.
---
Top
State Support for the Society
Andy Dinniman and Roger Thorne
Photo courtesy John O. Senior



At our June 2011 special meeting at Historic Waynesborough, we were pleased to once again welcome State Senator Andy Dinniman, this time to present the Society with a special state proclamation recognizing seventy-five years of exceptional community service.

Roger Thorne also expressed our appreciation for the support that Sen. Dinniman provided in helping us to obtain the recently concluded 2009 DCNR grant that funded several important projects, including the acquisition of new aerial photos of the region, other selected historical photographs, and a noteworthy collection of recorded and transcribed oral histories.


Andy reading the proclamation
Photo courtesy John O. Senior


At the September 2009 meeting, we were pleased to welcome State Senator Andy Dinniman and former State Representative Carole Rubley to recognize them for their valuable assistance in helping the Society to receive two DCED grants that have supported our Digitization Project.

Senator Dinniman presented us with a check for a new DCNR grant to support several important projects.


Roger Thorne with Andy Dinniman
Photo courtesy John O. Senior


---
Top
2006 Kirkner Essay Contest Awards