Source: Winter/Spring 2007 Volume 44 Numbers 1&2, Page 86
Chubby Checker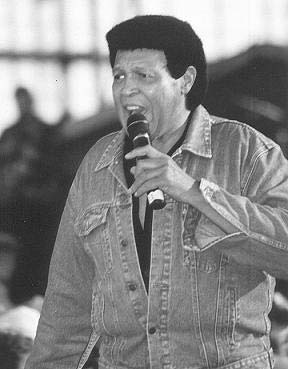 Chubby Checker is the stage name of Ernest Evans, born in 1941, and best known for popularizing the dance The Twist with his 1960 song "The Twist."
Ernest was born in Spring Gulley, South Carolina, and grew up in South Philadelphia. At the South Philadelphia High School with Ernest were Frankie Avalon and Fabian Forte. Evans started his career doing impressions of top recording stars of the time. He chose the name "Chubby Checker" as a take-off on then-popular singer Fats Domino.
His recording break was a Yuletide novelty tune called "Jingle Bells" on which Chubby did several impressions of top recording stars. Dick Clark sent it out as a Christmas greeting to all of his friends and associates in the music business. Cameo-Parkway liked it so much that they wrote a song called "The Class" and it became Chubby's first hit in early 1959.
In June of 1959, Chubby recorded "The Twist" (which had previously been a minor rhythm and blues hit for its author, Hank Ballard). The president of the record company was not initially impressed with Chubby's recording and felt it may be a "B" side at best. However, Chubby felt "The Twist" was something special and worked hard promoting the record by undertaking nonstop rounds of TV dates, interviews, and live performances. Fourteen months later, in the summer of 1960, "The Twist" was a hit. This one song was so popular that his public often did not allow him to sing any other style of music. He did popularize many other dance songs.
He is the only recording artist to have five albums in the Top 12 all at once. He is also the only artist to have a song reach #1 twice—"The Twist." He is hailed by many to have changed the way we dance to the beat of music since 1959. Checker had a number of hits with dance-themed records into the mid-1960s, but changes in public taste ended his hitmaking career in 1965. His hits included: "The Class," "Jingle Bell Rock," "The Twist," "Slow Twistin'," "Pony Time," "Let's Twist Again," "Limbo Rock," "Dancin' Party."
He spent much of the rest of the 1960s touring and recording in Europe. In 1964, he married Catharina Lodders, who had been Miss World in 1962. The 1970s saw him become a staple on the oldies circuit and having a minor comeback as a disco artist. In the 1980s Chubby recorded a new version of "The Twist" with rap trio The Fat Boys.
Today, while still residing in Tredyffrin, Chubby continues 40 years of live performances while releasing new studio music.