Source: Winter/Spring 2007 Volume 44 Numbers 1&2, Page 87
John Bogle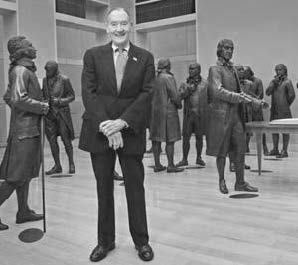 John C. Bogle was born in Montclair, New Jersey in 1929. He studied economics at Princeton University and graduated in the class of 1951, where his senior thesis was entitled "The Economic Role of the Investment Company." The thesis emphasized the primacy of the interests of the owners of mutual fund shares: "The prime responsibility (of fund managers) must always be to their shareholders." and "The role of the mutual fund is to serve the needs of both individual and institutional investors ... to serve them in the most efficient, honest, and economical way possible."
This thesis caught the eye of Walter Morgan, founder of the Wellington Management Company, which ran a mutual fund. He offered John a job with the company. In 1965 John was promoted to lead Wellington' operation. The next year he merged the company with a Boston-based investment counsel firm known for its aggressive investment strategies. In the bear market of 1974 the company's funds declined disastrously, and John was fired by his new partners.
Mr. Bogle served as Chairman and Chief Executive Officer of Vanguard from 1974, when he set up the company, until 1996 when John "Jack" Brennan took over. In that year, after a history of heart problems, John received a heart transplant. From 1996 to 2000 he was Senior Chairman of Vanguard.
Since 2000, he has served as President of the Bogle Financial Markets Research Center. The author of five books, John's most recent, The Battle for the Soul of Capitalism (Yale University Press, 2005), discusses his concern about American society today, and offers his solutions to fix today's version of American capitalism.
John has chaired the National Constitution Center Board in Philadelphia since September 1999.
John's achievements have been recognized throughout the investment community. In 1993, he received the lifetime "Award of Distinction" from the Financial Analysts of Philadelphia. In 1996, he was named "Fund Leader of the Year" by Fund Action, an industry trade publication. In 1998 John received the Musser Award for Excellence in Leadership from Temple University. The University of Delaware bestowed on him an honorary doctorate of law in 1999. He was designated in 2005 one of the "financial leaders of the 20th century" in Leadership and Financial Services. In 2006 he received the "Award for Professional Excellence" from the Association for Investment Management and Research and was inducted into the Chester County Economic Development Council Hall of Fame.